Automotive Winch Reinforcement Unit
Reconfirm the price with seller
Invoice payment,
Visa/Mastercard,
Cash on delivery,
L/C - Letter of Credit,
D/P - Documents against Payment,
D/A - Documents against acceptance
Customer pickup,
Courier,
Transport company
Less than 1 year old on Allbiz
Technical characteristics
Country of manufacture

Russia
Description
Manufactured in accordance with the requirements of TU 5225 - 008 - 55355339 - 2006.
Warranty period: 6 months from the date of commissioning in case of one - shift operation.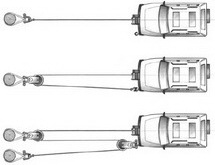 The automotive unit is designed to increase the tractive effort of manual and electric winches, if the nominal force is not enough to perform a particular operation. The block is suitable for working with both steel and synthetic ropes.
The use of one or more blocks allows you to increase the tractive effort by two or more times. The pulling force is evenly distributed between all attachment points, therefore special attention must be paid to their selection. It must be remembered that how many times there is a gain in strength, the speed of movement of the load decreases by the same amount.
Contact the seller
Automotive Winch Reinforcement Unit