Construction slewing crane KR
Reconfirm the price with seller
Invoice payment,
Visa/Mastercard,
Cash on delivery,
L/C - Letter of Credit,
D/P - Documents against Payment,
D/A - Documents against acceptance
Customer pickup,
Courier,
Transport company
Less than 1 year old on Allbiz
Technical characteristics
Country of manufacture

Russia
Description
Manufactured in accordance with the requirements of GOST 7890 - 93, FNP PB OPO, TU 3157 - 013 - 55355339 - 2008.
Crane operating conditions: from - 20? С to + 40? С
Appointment
A construction manual rotary crane is designed for lifting, lowering and sectoral movement of cargo suspended on a hook during construction and installation, repair and handling operations on sites not equipped with supporting structures for fastening lifting mechanisms, and in warehouses in the absence of stationary lifting equipment and forklift trucks.
Design
The crane consists of a support platform, a stand and a console that are attached to each other with standard fasteners. At the rear of the crane console there is a winch attachment platform. The platform has a wide range of adjustment.
To keep the crane in working position, it must be re - equipped with a surcharge according to the scheme, weighing at least 800 kg.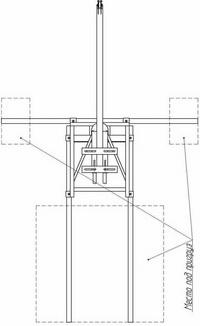 Contact the seller
Construction slewing crane KR