Less than 1 year old on Allbiz
Technical characteristics
Country of manufacture

Russia

Protective functions

Water-resistant
Description
Products: A device for installing control units Monicor - probe price to order to buy manufacturer Russia.
Description:
The device for the installation of control units and tie - in into the pipeline is intended for:
conducting tie - ins into the pipeline under pressure;
installation, exposure and extraction of gravimetric witness samples, substrate samples for microbiological research, samplers, sensors for electrochemical corrosion research;
Corrosion control units make it possible to determine the aggressiveness of the media in terms of corrosion and the effectiveness of the applied protection measures.
Arrangement of control points is carried out on existing equipment without stopping technological processes. Working pressure in the pipeline - up to 40 atm.
Corrosion control units are left on the pipe without a valve , there is a possibility of vertical movement and fixation of the rod with samples inside the pipe. The procedure for working with the device is shown in the diagram. Our specialists will conduct staff training and installation supervision.
The device differs from domestic (Trubokor) and foreign (Rohrback Cosasco, etc. ) analogs by the ability to install samples and take samples at any level of the pipeline cross - section. It should be especially noted that our Device is more versatile. Due to the transition from threaded nozzles (they tend to clog with chips and sand) to a bayonet mount system, maintenance of control units has become much easier. Ball valve parts Wetted devices are made of titanium and stainless steel.
The use of this device is economically feasible due to the absence of costs for valves and a lubricator when arranging each corrosion control point. The use of stainless steels in the main parts of the Corrosion Control Device and assemblies greatly increases the durability of the structure.
The procedure for working with the device for installing control units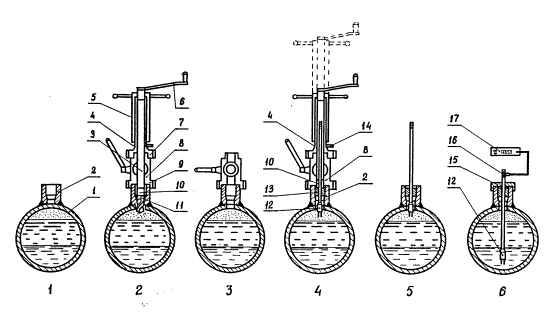 Mounting pipe 2 is welded onto pipeline 1
A ball valve 8 and a device with a drill 11 installed in the grip 10 are sequentially fixed to the mounting pipe using union nuts 7 and 9.
By rotating the handle 6 of the hollow rod 3 and feeding the drill by rotating the pressure cup 5, the pipeline wall is drilled. The drill 11 is removed into the cavity of the housing 4 and the ball valve is closed.
Remove the device from the ball valve.
Replace the drill in the grip 10 with a bayonet plug 13 with an electrochemical sensor 12.
The device is fixed on the ball valve 8 and, having opened the valve, a bayonet plug is passed through it and introduced into the mounting pipe 2.

The liquid is drained from the inner cavity of the housing 4 through the control valve 14.
Remove the device and the ball valve from the mounting pipe.
The sensor is lowered into the pipeline to the required level and fixed in this position with a cover 15 with a collet clamp.
Plug connector 16 is used to connect the Monicor 17 corrosion meter to the 12 electrochemical sensor.
Clients: At present, our devices are used in NGDU Chernushkaneft (Permneftegaz), NGDU Prorvaneft (Tengizneftegaz), Bashneftegazprom, NGDU Fedorovneft (Surgutneftegaz), NGDU Lasieganneft, Urievneft model for the Lukoil - Laganco system , NGDU Almetevneft and YUNPKh (models to replace the Trubokor system). The latest models are successfully used in NGDU Jalilneft (Tatneft) and in all NGDU ANK Bashneft, OJSC Sibneft - Noyabrskneftegaz, OJSC Lukoil - Perm, OJSC Yuganskneftegaz, West Siberian representative office of Elf - Atokem, JSC "TNPKh" and others. In addition, on special orders, Corrosion control units were developed for AK "Transneft",
Contact the seller
Device for installing control units in terms of corrosion Monicor-probe