Dry chambers for piercing electrodes NK 6.6.8/3.5 I6
Reconfirm the price with seller
Russia, Solnechnogorsk
(View map)
Technical characteristics
Brand

Накал-Промышленные печи

Country of manufacture

Russia
Description
Susheering chambers are designed to conduct processes of drying and piercing electrodes.

Camera is made in a welded frame of steel profiles and contains a working chamber (muffel) made of sheet steel
.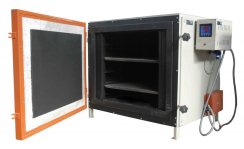 NC 6.6.8/3.5 I6
Sushel cabinet is equipped with high-quality modern insulation materials based on basalt fiber.
Trubent electric heaters (TEN) are designed to heat different environments by convection, thermal conductivity or radiation by converting electrical energy into thermal power and are a defined tube of a given size with threaded toses to connect to a power source.
Susheer camera is equipped with a fan of the forced air circulation system, which creates air flow circulation in the work area and ensures an even distribution of temperature throughout the volume of the working chamber.
The oven is equipped with a comfortable turning door.
Control and temperature control in the electric furnace is carried out by a microprocessor electronic control unit with a digital temperature display.
| | | | | |
| --- | --- | --- | --- | --- |
| NAINY | NUSH, MM, D-SH-V | SRESE WORKING CAMERA, MM | TEPERATURE, S | POWER, KVT |
| NC 6.6.8/3.5I6 | 950-1350-1150 | 600-600-800 | 350 | 12 |

>
Contact the seller
Dry chambers for piercing electrodes NK 6.6.8/3.5 I6