Less than 1 year old on Allbiz
Description
Argon arc welding is carried out with a nonconsumable tungsten electrode in an inert gas environment (argon, helium and their mixtures with other gases) using a filler wire with alternating or direct current, adjustable from 5 to 315 A.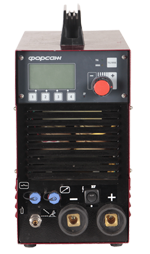 FORCAGE - 315AC / DC is ideal for welding aluminum. For this, it implements a separate mode of argon - arc welding with alternating current "TIG AC" with manual settings of the shape and frequency of the output current, balance (ratio of the duration of the negative pulse to the period of the output current) and the heating time of the electrode. Thanks to this, you can achieve an excellent result of welding any parts and materials made of aluminum and its alloys. FORCEZH - 315AC / DC also copes well with steel and copper alloys thanks to the TIG DC TIG welding mode.
Manual electric arc welding with direct current from 20 to 315 A is carried out with consumable electrodes of any brand with a diameter from 1.6 to 5.0 mm. The presence of the adjustable functions HOT START, ARC FORCE, the slope of the I - V characteristic, the pulse mode allow you to fine - tune the machine for welding different materials in different conditions.
The device provides the ability to work in a continuous mode while maintaining high quality welding in any spatial positions. Thanks to the large LCD display FORSAZH - 315AC / DC, it is convenient to adjust and monitor settings during operation.
Panel view: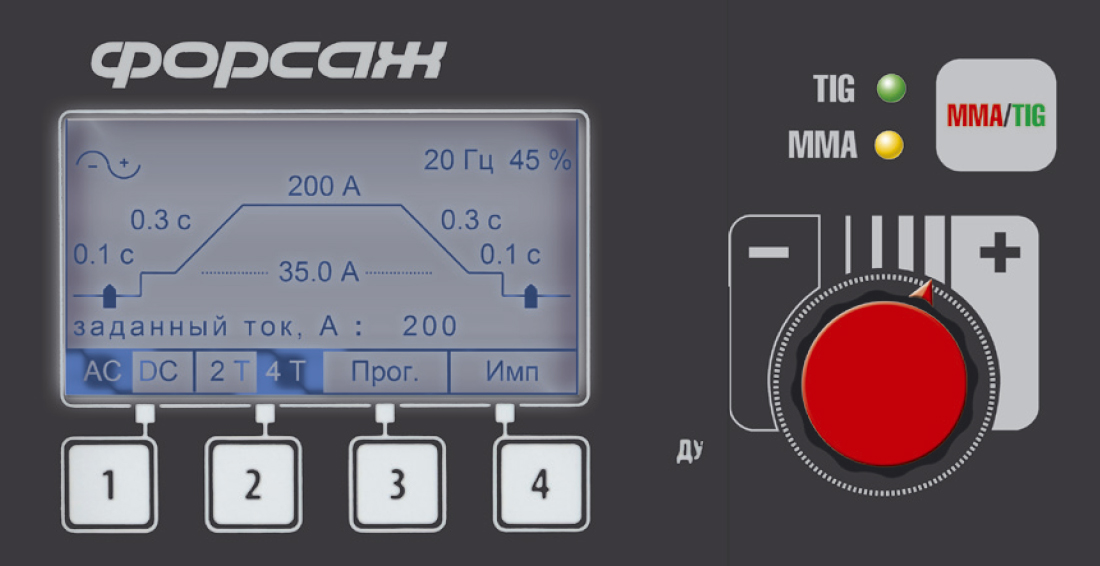 Functional features:
Contact and non - contact (built - in oscillator) arc ignition.

Setting and control of welding current and voltage on the LCD display.

Possibility to adjust the time of shielding gas flow before and after welding

Possibility to adjust the rise and fall times of the output current.

Automatic shutdown in case of mains voltage drops.

Possibility of power supply from mobile power plants with a capacity of at least 25 kV • A.

Remote control of welding current.

Overheating, overload or accident protection.

Storage in memory of 30 user programs in TIG mode and 10 programs in MMA mode.

Automatic saving of settings after 1 min. sustainable work.

Adjustable pulse mode

Adjustable functions of HOT START, ARC FORCE, slope of I - V characteristic in MMA mode

ANTISTICK function in MMA mode

Dust protection by efficient fan control
Specifications
Power supply

Power supply, V

three - phase network 380 V 50 Hz

Main characteristics

Welding current, A

5 - 315

Main operating mode

TIG

Additional operating modes

MMA

Electrode diameter, mm

1.6 - 5

Range of regulation of welding current, A

- MMA mode

20 - 315

- TIG mode

5 - 315

Load percentage, %

- at a welding current of 140A

one hundred

- at a welding current of 160A

one hundred

- at a welding current of 250A

one hundred

- at a welding current of 315A

60

Maximum power consumption, kVA

17

Adjustable gas post - flow time, s

- before welding

0.1 - 10

- after welding

0.1 - 30

Display and control

Arc ignition

+

Adjustable rise / fall time

0.1 - 10 / 0.1 - 15

Adjustable gas purge

+

Adjustable NOT START, ARC FORCE

+

Digital indication of set and current parameters

+

Welding current display

+

Output voltage indication

+

Remote control

+

Weight and dimensions

Dimensions, mm

440x188x380

Weight, kg

16.2
Documentation
Operating manual for welding inverter FORSAZH - 315AC / DC

Passport for the FORSAZH - 315AC / DC welding machine

Certificate of conformity
G - a - b - a - r - i - t - s - , m - m - 440x188x380
M - a - c - c - a - , k - g - 16.2
K - a - b - e - l - b - (d - l - i - a - p - p - a - r - a - t - o - v - d - o - 500A - ) d - l - i - n - o - th - 5 m - e - t - r - o - v - - 7,430.00 rubles

Welding cables for manual electric arc welding for three - phase machines
Contact the seller
Forsage-315AC / DC single-phase industrial TIG welding machine for AC and DC