Less than 1 year old on Allbiz
Description
The device is designed for argon - arc welding with a non - consumable tungsten electrode in an inert gas medium with direct and alternating current and manual electric arc welding with direct current.
A wide range of special functions provides ease and simplicity of welding, continuous operation while maintaining high quality seam. By adjusting the frequency of the current in the range from 20 to 300 Hz, it is possible to select the optimal mode of arc concentration and narrowing of the weld seam, which makes it possible to weld thin sheet materials and obtain high - quality welded joints.
Operating modes
"TIG AC" - argon - arc welding with alternating current with the ability to adjust the shape and frequency of the output current, balance (the ratio of the duration of the negative pulse to the period of the output current) and the heating time of the electrode, which is necessary when welding aluminum and magnesium alloys. The sinusoidal current is ideal for jewelry welding of aluminum, and the rectangular shape gives the power and stability of the welding arc when working with thick - walled metal.

"TIG DC" - direct current argon arc welding. The classic type of welding in a protective argon environment. Optimal choice for working with stainless steel and copper alloys.

"MMA" - manual direct current electric arc welding of steel materials and parts.
Microprocessor control allows you to set welding parameters for a specific material with saving user programs in the memory of the machine. The presence of a pulse mode allows you to control heat input and deformation of the seam. to conduct welding in various spatial positions.
The pilot arc mode provides stability of the welding process with current adjustment from 5 to 60 A. Thanks to the informative LCD display, it is convenient to control and monitor the settings and parameters of the welding process
The robust housing and reliable design ensure long - term operation in the harshest conditions, and the ability to remotely control allows adjustments, settings, even being at a considerable distance from the source.
Panel view: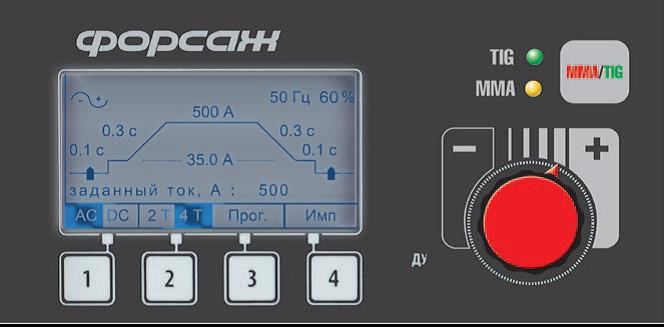 Functionality:
Contact and non - contact (built - in oscillator) arc ignition

Setting and control of welding current and voltage on the LCD display

Adjustable shielding gas time before and after welding

Possibility to adjust the rise and fall times of the output current

Automatic shutdown in case of mains voltage drops

Possibility of power supply from mobile power plants with a capacity of at least 25 kV • A

Remote control of welding current

Overheating, overload or accident protection

Memory storage of 30 user programs in TIG mode and 10 programs in MMA mode

Automatic saving of settings after 1 min. sustainable work

Adjustable pulse mode

Adjustable functions of HOT START, ARC FORCE, slope of I - V characteristic in MMA mode

ANTISTICK function in MMA mode

Dust protection by efficient fan control
Specifications:
Power supply

Power supply, V

three - phase network 380 V 50 Hz

Main characteristics

Welding current, A

5 - 500

Main operating mode

TIG

Additional operating modes

MMA

Pilot arc current, A

5 - 60

Balance, % (for TIG AC mode)

45 - 85

Output current frequency, Hz (for TIG AC mode)

20 - 300

Load percentage, %

- at a welding current of 400A

one hundred

- at a welding current of 500A

60

Maximum power consumption, kVA

27

Display and control

Adjustable rise / fall time

0 - 10 / 0 - 15

Remote control

+

Weight and dimensions

Dimensions, mm

497x209x410

Weight, kg

23.5
Documents:
Operation manual for welding inverter FORSAZH - 500AC / DC

Passport for the FORSAZH - 500AC / DC welding machine

Declaration of Conformity
K - a - b - e - l - b - (d - l - i - a - p - p - a - r - a - t - o - v - d - o - 500A - ) d - l - i - n - o - th - 5 m - e - t - r - o - v - - 7,430.00 rubles

Welding cables for manual electric arc welding for three - phase machines
Contact the seller
Forsage-500AC / DC single-phase industrial TIG welding machine for alternating and direct current