Russia, Barnaul
(View map)
Technical characteristics
Brand

Михайловский завод химических реактивов, ООО

Country of manufacture

Russia
Description
International name Ferric oxide
Synonyms Iron oxide, Iron trioxide
Formula Fe2O3
Normative and technical documentation TU - 2611 - 023 - 05761270 - 01
Appearance homogeneous fine powder of red or red - brown color.
Wholesale supplies of iron oxide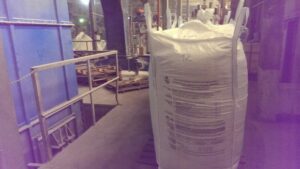 We manufacture and sell chemicals in bulk with delivery to any part of the country - fast, inexpensive, at fair prices. There is a catalog of ready - made specifications, development is possible at your request.
We manufacture and sell iron III oxide at wholesale prices. The substance is manufactured in strict accordance with accepted standards and meets the requirements of quality standards in force for 7 - aqueous iron (III) sulfate , produced for use as a reagent. The same standard applies to iron oxide for ferrites .
You can also find in our catalog other chemical compounds that we also produce at our plant in the Altai Territory. Shipments of large consignments of goods are carried out by rail, which is the most profitable option in terms of its cost. Our products are sent to many countries of the world, not to mention the regions of Russia with which we work, including: Amur Region, Magadan, Khabarovsk Territory, Krasnoyarsk, Perm, Smolensk, Bryansk and Kursk Regions, as well as others. The name of our plant MZHR has become a synonym for quality, for many years of work our products, without exaggeration, are known in almost all corners of the world.
Iron oxide properties
Quality indicators

Indicator name

TU requirements for the brand

K - 1

K - 2

1. Mass fraction of iron oxide (Fe2

O3), % , not less

93.0

93.0

2. Mass fraction of sulfur in terms of (SO3

), % , no more

0.08

0.16
Download quality indicators
Download quality indicators
An amphoteric, complex chemical with the formula Fe2O3 , and is iron combined with oxygen. to a greater extent showing basic properties.
Reddish brown color.

Thermally stable.

Does not react with water.

Reacts with acids and alkalis for a long time.

Forms spinels - double oxides - when fusion with other oxygen compounds (oxides).
The substance is supplied in packages that preserve the quality of the product. It is recommended to store it only in covered dry rooms.
The compound has a toxic effect: it irritates the skin and mucous membranes. When working with the substance, it is necessary to maintain the permissible concentration in the air (up to 1 mg / m), and also use protective equipment: anti - dust respirators, special goggles and gloves.
Supply and exhaust ventilation is compulsory in working rooms. At points of increased concentration of iron oxide dust, additional shelters and separate ventilation systems are installed.
Reacts with hydrochloric acid, sodium carbonate, sodium hydroxide (fusion), hydrogen (reduction to iron).
Systematic
Name

Iron (III) oxide

Traditional names

iron oxide, kolkotar, crocus, red lead

Chem. formula

Fe2

O3

Rat. formula

Fe2

O3

State

solid

Molar mass

159.69 g / mol

Density

5.242 g / cm³

Melting temperature

1566 ° C

Boiling temperature

1987 ° C

Steam pressure

0 ± 1 mmHg

Reg. CAS number

1309 - 37 - 1

Pubchem

518696

Reg. EINECS number

215 - 168 - 2

SMILES

[Fe + 3]. [Fe + 3]. [O - 2]. [O - 2]. [O - 2]

InChI

1S / 2Fe.3O
JEIPFZHSYJVQDO - UHFFFAOYSA - N

Codex Alimentarius

E172 (ii)

RTECS

NO7400000

ChEBI

50819

ChemSpider

14147

The table shows data for standard conditions (25 ° C, 100 kPa), unless otherwise noted.
Transportation
Our factory provides a two - year warranty for compliance with the requirements for storing the substance under recommended conditions, with proper transportation and storage.
Since Iron (III) oxide for catalysts requires special attention during transportation, you need to treat its packaging with special care. Our company can arrange its packing in accordance with GOST. Therefore, in our chemical plant, the finished substance is packed in strong polyethylene bags that meet the standards. At the choice of the buyer, it is also possible to pack this substance in paper five - six - layer bags.
Receiving
The naturally formed oxide is hematite. Thanks to him, red earth appears. May occur as maghemite, a naturally occurring crystalline magnetic modification, and limonite or brown iron ore.
At our plant, iron oxide is produced by:
interaction of heated salts and air

calcination and dehydration of the metal rust product - iron metahydroxide.
Technological processes for the production of iron oxide for catalysts fully comply with regulatory requirements and regulations. If necessary, we can develop personal specifications for production with specific conditions.
All products are accepted and strictly checked for composition. Half - kilogram samples from the entire batch are taken in random order and laboratory tests are carried out to determine the mass fraction of the main substance, as well as to check the amount of impurities allowed by the standard.
The composition and purpose of iron sulfate must be indicated on the packaging of products - for use as a reagent.
Application
Iron oxide is used in many areas of human activity.
The use of finely dispersed iron oxide as a catalyst is due to its molecular structure. The oxide lattice has defects, voids, which allow other atoms (gold or other metal) to bind to the surface in an orderly way. The variable valence of iron creates conditions for the effective acceleration of the reaction.
Metallurgy
It is included in the technological chain of iron smelting.

Used for welding steel structures.

It is used as a polish in the production of steel and glass.
Chemical industry, construction
Participates in the production of ammonia.

Part of cements, paints, ceramics.

It is the main component of red iron paint. Another name - crocus, is an anhydrous Fe oxide, which is of high value only when artificially mined.

The main component in multi - stage polymer production.

It is used in the production of catalysts for water purification; the effect is also achieved due to the low cost of oxide.

Iron oxide modification is used as an oxidizing agent in pyrotechnics.
Sound and computer technology
Iron oxide layer on tapes serves as digital information storage
Food industry
Known as a food additive, E172 dye.
Space technology
On its basis, fuel is produced with a burning rate superior to all modern types of fuel. In the production of rocket fuel, iron oxide is used along with copper oxide, but it is much cheaper.
Precautions for handling the substance
Among the negative effects on humans, this is a general toxic effect upon contact with a substance without protective equipment, upon contact with the skin, it can cause severe irritation, the same effect awaits in case of contact with the mucous membrane. The maximum permissible concentration inside the working area should not exceed - 1 mg / m .
When working with the substance, it is imperative to use personal protective equipment, for example, such as: respirators, rubber gloves, goggles.
In the premises where the work is carried out, it is necessary to ensure the availability of general supply and exhaust ventilation. And the places of the highest concentration of the substance must be separate from the general space of the room and must also have local exhaust ventilation. The study of the substance should be carried out in a fume hood, in a laboratory specially equipped for this.
We invite you to cooperation
You can always order any quantity of high quality iron oxide at a low price.
The plant undertakes to ensure the safety of all properties of the chemical compound during transportation to the customer. A two - year quality guarantee is provided, subject to the storage rules of the substance.
Large consignments of goods are calculated at a special cost.
We organize prompt delivery to any region of the country on our own vehicles designed for the transport of chemicals. Large consignments are delivered by rail.
When concluding an agreement on regular deliveries, we will offer pleasant terms of cooperation, free shipping and many other benefits that increase your comfort and save money.
Contact the seller
Iron (III) oxide for catalysts "Mikhailovsky Plant of Chemical Reagents, LLC"