Less than 1 year old on Allbiz
Technical characteristics
Country of manufacture

Russia
Description
Manufactured in accordance with the requirements of FNP PB OPO, TU 3159 - 011 - 55355339 - 2008.
We manufacture mobile mobile cranes according to standard sizes, as well as according to customer's drawings.
Appointment
Mobile cranes are used in production in cases where the use of overhead, jib or other cranes and lifting devices is impossible or impractical. As a rule, these are small production and storage facilities, and it is also possible to use the crane in open areas with a flat and solid surface.
Design
The crane has a collapsible design for ease of transportation. For movement, the crane is equipped with swivel wheels with a brake. It is not recommended to move the crane with a load due to the dynamic load on the wheels.
Completion of a mobile or stationary hoist, other load - handling devices is negotiated separately.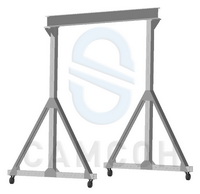 Contact the seller
Portal crane (mobile)