Ratchets (chain ties)
Reconfirm the price with seller
Customer pickup,
Courier,
Transport company
Less than 1 year old on Allbiz
Technical characteristics
Country of manufacture

Russia
Description
L - 140 Standard Ratchet Type Load Binders
Material: alloy steel.
Not intended for lifting operations!
Appointment
The tightening device (ratchet) is used to tie loads with chains. It is used when transporting bulky and long loads, in cases where rigid fixation is required in order to prevent roll - over or overturning. Most often it is used for securing cargo on road and railway platforms, river and sea vessels.
Design
Ratchet is made in two versions - with a ratchet and with a tie - rod mechanism. Ratchet connects to the chain using shortening hooks and takes out its slack by means of a lever or ratchet mechanism.
When choosing a tie - down device, consider the chain diameter and the expected load. Additional equipment with a lashing chain is possible.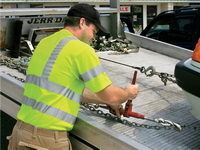 Contact the seller
Ratchets (chain ties)