Single-phase industrial welding machine for argon-arc welding with alternating and direct current Forsage-315AD
Less than 1 year old on Allbiz
Description
Multifunctional welding inverter FORSAZH - 315AD is designed for direct current argon - arc welding of parts and materials made of steel and copper alloys and manual electric arc welding with stick electrodes 1.6 - 5.0 mm in diameter.
Argon - arc welding ( TIG mode ) is carried out with non - consumable tungsten electrodes in an inert gas environment (argon and its mixture with helium and other gases) using a filler wire with an arc formed by a constant current, adjustable from 10 to 315 A. The inverter has a pulse mode allows you to regulate heat input and control the rate of solidification of the seam, ensuring the highest quality welding.
Manual arc welding ( MMA ) is carried out with stick fusible electrodes of any brand with a diameter of 1.6 to 5.0 mm with an arc formed by a direct current, adjustable from 20 to 315 A. An adjustable pulse mode facilitates welding in various spatial positions (vertical and ceiling seams), welding of parts of small thickness.
The FORSAZH - 315AD welding inverter allows you to set welding parameters for a specific material with their subsequent saving in the machine's memory. This ensures the ease of use of the inverter, high productivity and good welding results.
Microprocessor control and original circuit and technical solutions made it possible to achieve high quality weld in any position, stability of the welding process and provide a wide range of functional capabilities. More & gt - & gt -
The main advantages of the FORSAZH - 315AD welding inverter:
Possibility of contactless and contact arc ignition

Electronic stabilization of the welding arc current

High quality welding when using electrodes with different types of coating

Low power consumption

Compactness

Dust protection by efficient fan control
Front panel of the FORSAZH - 315AD welding inverter: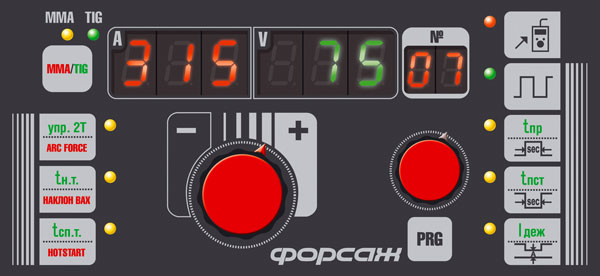 Functionality of the FORSAZH - 315AD welding inverter:
Setting and control of welding current and voltage by digital indicators

Adjustment of the rise and fall times of the welding current in TIG mode
Adjustment of shielding gas time before and after TIG welding

Adjustable pulse mode

PILOT ARC function (pilot arc)

Adjustment of the slope of the output current - voltage characteristic in MMA mode
Adjustable functions HOT START, ARC FORCE in MMA mode
ANTISTICK function in MMA mode

Automatic shutdown in case of mains voltage drops

Automatic protection in case of overheating of the device and in case of emergency

Remote control

Automatic saving of welding inverter settings after 1 min of stable operation

Memory for 20 user programs in TIG mode and 7 programs in MMA mode

Power supply from mobile power plants with a capacity of at least 20 kVA
Specifications
Power supply

Power supply, V

three - phase network 380 V 50 Hz

Main characteristics

Main operating mode

TIG

Additional operating modes

MMA

Electrode diameter, mm

1.6 - 5

Range of regulation of welding current, A

- MMA mode

20 - 315

- TIG mode

10 - 315

No - load voltage, V

- in active mode

70 - 100

Load percentage, %

- at a welding current of 250A

one hundred

- at a welding current of 315A

60

VAC slope control range, V / A

0.35 - 1.85

Maximum power supply network, kVA

17

Display and control

Arc ignition

contactless / contact

Adjustable rise / fall time

+

Adjustable gas purge

+

Adjustable NOT START, ARC FORCE

+

Digital indication of set and current parameters

+

Remote control

+

Weight and dimensions

Dimensions, mm

425x185x355

Weight, kg

14

Other characteristics

Working range of ambient temperature, ° С

- 20 . . . + 40
Documentation
Operating manual for welding inverter FORSAZH - 315AD

Passport for welding machine FORSAZH - 315AD

Certificate of Compliance

Protocol for the examination of the results of the examination
G - a - b - a - r - i - t - y - , m - m - 425x - 185x - 355
M - a - c - c - a - , k - g - 14
K - a - b - e - l - b - (d - l - i - a - p - p - a - r - a - t - o - v - d - o - 500A - ) d - l - i - n - o - th - 5 m - e - t - r - o - v - - 7,430.00 rubles

Welding cables for manual electric arc welding for three - phase machines
Contact the seller
Single-phase industrial welding machine for argon-arc welding with alternating and direct current Forsage-315AD