Less than 1 year old on Allbiz
Technical characteristics
Country of manufacture

Russia
Description
Hoists of climatic modification U1 in accordance with GOST 15150 - 69. Ambient temperature from - 20 o C to + 40 o C
Mode of operation 1M according to GOST 25835 - 83 (M3 according to ISO 4301 / 1 - 86).
The hoist is not designed to lift and move people.
Appointment
Worm hoists TRCH are designed for intrashop and interdepartmental transportation of goods, maintenance of production lines, machine tools and other equipment. The hoist can be used as a lifting and moving mechanism for a single girder manual crane. The main advantages of using hand hoists are the ability to lift loads to a considerable height with the efforts of one worker, ease of installation and fastening, as well as the absence of the need to connect electricity.
The worm gear allows for greater accuracy in rigging, but at the same time reduces the lifting capacity of the devices and the speed of lifting or lowering the load. The main advantage of these devices is that this design does not require a ratchet brake and direction switch, as well as the ability to lift heavier loads with less physical effort. The rotation of the sprocket of the load chain is carried out using a worm gear, the worm is manually driven by the drive chain. A welded round link chain is used as a load chain.
In a stationary version, the hoist has a hook at the top, with the help of which the hoist is attached to the suspension or trolley. Stationary hoists are quick to assemble and, if necessary, can also be quickly removed and transferred to another work site.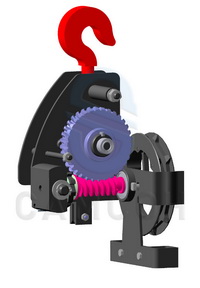 Contact the seller
Tali series TRCH