Less than 1 year old on Allbiz
Technical characteristics
Country of manufacture

Russia
Description
Hoists of climatic modification U1 in accordance with GOST 15150 - 69. Ambient temperature from - 40 ° С to + 40 ° С.
Mode of operation 1M in accordance with GOST 25835 - 83 (M3 in accordance with ISO 4301 / 1 - 86).
The hoist is not intended for lifting and moving people and work in explosive and fire hazardous environments.
Appointment
The hand gear lever hoist is designed for lifting, holding and lowering loads, convenient for use in confined spaces due to its low headroom. Lever hoist allows you to raise the load with human muscle power to the level of the operator (which is located near the hoist attachment point), lifting / lowering the load is done by means of a lever transmission
The hoist consists of a gearbox with a load brake, a load chain with an anchor and load hooks (or load suspension), a body and a lever. On the lever there is a flag for changing the direction of movement of the load chain.
To lift the load, switch the flag to the "Up" position, and use the lever to activate the hoist mechanism. When the lever stops moving, the latch engages on the tooth of the ratchet disc, which prevents it from turning counterclockwise. To lower the load, switch the flag to the "Down" position.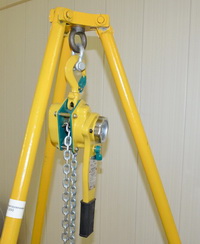 Contact the seller
TALI series TRCP