Less than 1 year old on Allbiz
Technical characteristics
Country of manufacture

Russia
Description
Single speed lift and travel motors.
Three - phase power supply 380V / 50Hz.
Protection class IP44, IP54 (EN 60529).
Country of origin: China.
Appointment
Electric hoists of the CD1 type are used in industrial facilities and enterprises with a high intensity of loading and unloading operations with loads of various weights. The hoists are often mounted on single girder overhead cranes or suspended I - girders as material handling equipment.
Industrial hoists are made in stationary and mobile versions. If the stationary hoist works only in the vertical plane, raising or lowering the load, then the mobile one, with the help of the carriage included in its design, can move along the T - beam. This makes it possible to move the load in a horizontal plane along the entire length of the overhead track.
Model CD1 wire rope hoists are equipped with an electric motor with an integrated cone brake to hold the load in the raised position. The brake built into the electric motor of the hoist is activated when the electric motor is switched off or when the voltage in the power supply network drops.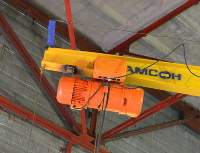 Contact the seller
Waist series CD1 (PRC)