Less than 1 year old on Allbiz
Technical characteristics
Country of manufacture

Russia
Description
Ambient temperature from - 20 o С to + 40 o С.
The hoists are not intended for work in fire and explosion hazard areas, as well as for lifting people!
Country of origin - PRC.
Appointment
The HSHZ hand gear lever hoist is designed for lifting, holding and lowering loads. Lever hoist allows you to raise the load with human muscle power to the level of the operator (which is located near the hoist attachment point), lifting / lowering the load is done by means of a lever transmission
To bring the hoist into working condition, it is necessary to switch the flag on the handle from the neutral position to the "Up" or "Down" (Down) position. The lifting or lowering of the load is done by swinging the arm. The hoist is equipped with an automatic brake.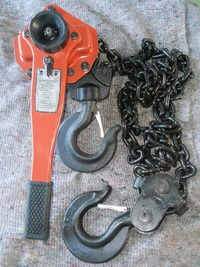 Contact the seller
Waist series HSHZ