Less than 1 year old on Allbiz
Technical characteristics
Country of manufacture

Russia
Description
Ambient temperature from - 20 ° С to + 40 ° С.
The hoists are not intended for work in fire and explosion hazard areas, as well as for lifting people!
Country of origin - PRC.
Appointment
The HSZ - A series hand chain hoist is designed for lifting and holding loads during rigging operations. Designed for light to medium duty use with simple design, durability and high performance. This model is easy to operate and maintain.
An additional overload protection device makes the chain hoist even more safe.
Gear hoists allow the load to be lifted from operator level to height, while the traction force is transmitted to the gear using a chain. The hoist is a system of gears that allows increasing the efforts of one operator several times to perform the necessary work. Due to the presence of a chain guide, the load is lifted as carefully and smoothly as possible.
In a stationary version, the hoist has a hook at the top, with the help of which the hoist is attached to the suspension or trolley. Stationary hoists are quick to assemble and, if necessary, can also be quickly removed and transferred to another work site.
The manual gear hoist consists of the following main units: upper, lower suspensions, a gearbox with a load brake, a load and pulling sprocket, a load and pull chain. Reducer two - stage two - slot cylindrical coaxial with external gearing.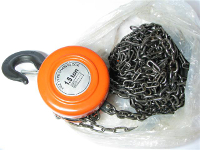 Contact the seller
Waist series HSZ-A