Less than 1 year old on Allbiz
Technical characteristics
Country of manufacture

Russia
Description
Powered by a household network 220V / 50Hz.
Protection class IP54 (EN 60529).
M1 operating mode according to ISO 4301 / 1 - 86.
Country of origin: China.
Appointment
Mini - hoists RA are designed for lifting, holding and moving loads in industrial and domestic conditions with light operating conditions. Household hoists differ from industrial hoists in simplified design, the ability to connect to a 220V household power supply.
The hoists are equipped with an electric motor with a built - in electromagnetic brake to hold the load in the raised state and a control panel for easy operation of the device. In the standard version, household hoists are stationary, while the RA model hoists can be connected to a cart for movement on T - beams.
The delivery set of the hoist includes a chain hoist. The hoist hook is attached to a special hole in the hoist body. A loop formed in this way with a pulley block moving along it allows to double the carrying capacity, but at the same time the speed and height of the load lifting is halved.
The hoist motor is equipped with an overheating prevention system. When lifting the hoist may stop, it will be possible to continue working after the motor has cooled down. If an emergency stop of the hoist is required, press the red emergency stop button.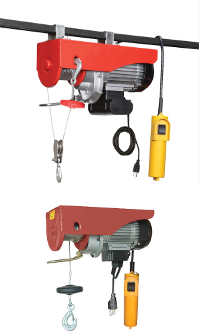 Contact the seller
Waist series RA