Less than 1 year old on Allbiz
Description
The industrial DC welding machine FORSAZH - 502 is designed for mechanized and semi - automatic welding (MIG / MAG mode) of steel materials, parts and assemblies.
In the "MIG / MAG" mode, welding is performed with solid or flux - cored wire with a diameter of 0.8 to 1.6 mm in a shielding gas environment. Welding inverters FORSAZH - 502 are used in conjunction with external wire feeders FORSAZH - MP , FORSAZH - MP5 or similar mechanisms with a supply voltage of 24V DC.
The inverter welding machine can also be used for manual electric arc welding ("MMA" mode) with stick fusible electrodes of any brand with a diameter from 1.6 to 5.0 mm.
The welding machine can also be used as a power source for TIG welding of parts and materials made of stainless steel and copper alloys (TIG mode) with additional equipment.
The FORSAZH - 502 welding machine provides:
stability of the welding process

the ability to power the welding machine from autonomous mobile power plants with a capacity of at least 30 kVA -

protection against overheating, overload or in case of an accident

high - quality seam formation

execution of welds in any spatial position.
Functionality
Extended modification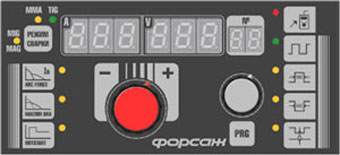 Adjustable HOT START

Adjustable ARCFORCE

Adjustable VAC Slope Function

Adjustable Inductance Function

Adjustable Base Current Function

Adjustable PILOTARC Function

Pulse mode

Storage of 72 user programs

ANTISTICK function

Remote control
The device is made with a degree of protection IP22 in accordance with GOST 14254 - 96. In terms of the degree of protection against electric shock, the device belongs to class I according to GOST 12.2.007.0 - 75.
Documentation
Passport for semiautomatic welding machine FORSAZH - 502

Operation manual for automatic welding semiautomatic device FORSAZH - 502

Certificate of conformity
G - a - b - a - r - i - t - y - , m - m - 430x - 225x - 435
M - a - c - c - a - , k - g - 25.9
K - a - b - e - l - b - (d - l - i - a - p - p - a - r - a - t - o - v - d - o - 500A - ) d - l - i - n - o - th - 5 m - e - t - r - o - v - - 7,430.00 rubles

Welding cables for manual electric arc welding for three - phase machines
Contact the seller
Welding machine for industrial use for semi-automatic, manual electric arc and argon-arc welding Forsage-502 extended modification